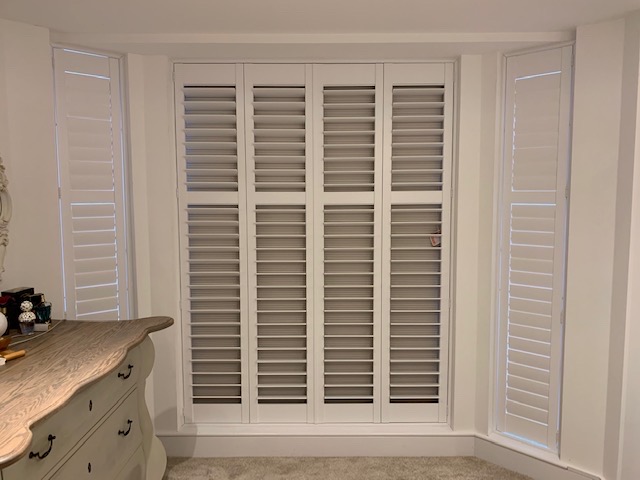 Sunlight. We all need it since it's a critical part of staying healthy when our bodies use it to create vitamin D, but when it comes to certain situations in our home, the last thing you want is the sun creeping through blinds or around curtains in your bedroom. That's why blackout shutters are perfect for bedrooms.
This month, to help you decide if blackout shutters are right for you, we'll talk you through the benefits for you personally, the social benefits and the benefits of the blackout shutters themselves as products.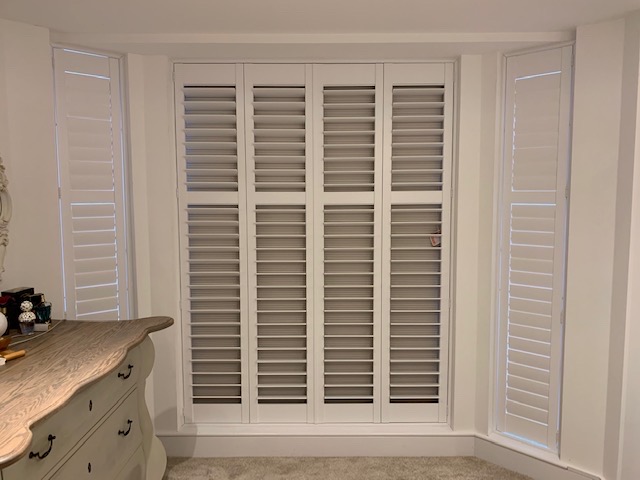 When the days get longer in summer it can be a glorious feeling for most, but for some, it means disturbed sleep. We all need a good night's sleep, but there are some situations where it's vital, and our bodies are naturally more inclined to match a waking pattern with the sun.
Night shift workers – If you work at night, whether occasional or permanent, there's nothing more frustrating than not being able to sleep once you get home because of the daylight pouring through. With blackout shutters, you can eliminate this and create a dark, cosy bedroom in which to get your much-needed rest.
Children's rooms – Some kids are notorious for needing perfect darkness in order to get to sleep, while for babies it's important to nap during the day at different points to aid their development. For this reason, blackout shutters are ideal since they create that nighttime feeling for restful sleep.
The right sleep – According to the NHS, we need between 6 to 9 hours of sleep on average to avoid tiredness and fatigue. This might be easier to get in winter when it's almost always dark, but in the summer we tend to let this slip because of how much sunlight we get. By using blackout plantation shutters, you can ensure you're getting a healthy amount of sleep no matter how early the sun rises.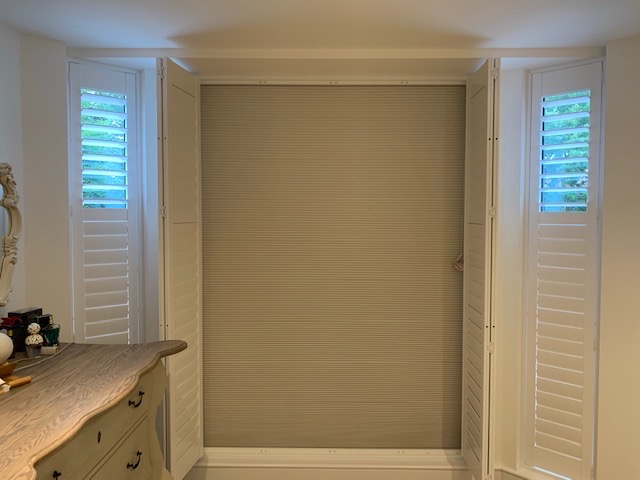 The social benefits of blackout shutters
Our bedrooms are usually reserved for sleeping, but for some people, they're also entertainment spaces and when you're looking for a pitch-black setting in which to enjoy movie nights in bed, this can be disturbed.
Blackout shutters for your interior mean you can block out glare on your screen and fully immerse yourself in any gaming, bingeable boxset or movie watching whenever you're in the mood – even if that's in the middle of the afternoon!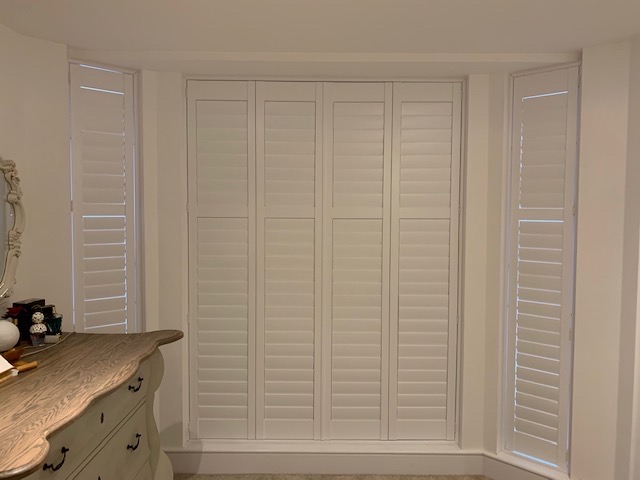 The product benefits of blackout shutters
When choosing blackout shutters for windows from Woodstock Shutter Company, you can expect a number of benefits because of our dedication to quality. We've been assisting clients with their interiors since 1999, allowing us to amass a depth of knowledge when it comes to selecting the right products.
Quality materials – We only use quality materials for our shutters, with a 5-year guarantee for your peace of mind.
20 shade colours to choose from – Whether you're looking to build your decor around your shutters or blend them in seamlessly with your existing decor, we offer a range of colours to help you achieve the perfect aesthetic for your bedroom.
Adaptable to the seasons – Because our blackout shutters are adjustable, you can adapt your bedroom to the seasons, opening them for more air in summer, or controlling the lighting during winter — they're perfect for any season.
Suitable for any window shape – If you have an unusual window shape, we provide bespoke blackout shutters to suit any slanted, curved or uniquely sized windows.
If blackout shutters and the array of benefits we've discussed here have intrigued you, look no further than our dedicated family business. We take the time to discuss your needs at a free home design appointment and can help you create a beautiful interior.
Wherever you are in Surrey, Epsom, Reigate and Dorking, call today to book your appointment or to discuss our blackout shutters range.
« Return to news