If you've had shutters fitted in your home, then it's highly likely that you take a great deal of pride in how your home looks. After all, a tidy home is the sign of a tidy mind, bringing more calm and tranquility to your life. 
But shutters are often static objects that may collect dust or scuffs over time, so how do you clean them? This month at Woodstock Shutter Company, we're going to be providing some general guidance on how to clean your shutters and keep them looking better for longer.
Vacuuming & dusting shutters
The first step when cleaning your shutters is to get rid of the dust. That means collecting it and not simply spreading it around. You can take either of the following approaches, but we feel it works better when combined.
Vacuum – If you have a soft bristle head for your vacuum, you can use this to go along the slats of your shutter one by one. Don't forget the very top of the shutter when you've got them in the open position.
Duster – For a lighter approach on a more regular basis, or to tackle areas that are hard to reach with a vacuum application, use a dry dusting cloth or feather duster. An extendable duster is great for getting to any rogue cobwebs that may form between cleans. 
Finally, if you need to get into any crevices, try using an old soft-head toothbrush. You can apply any combination of techniques, but dusting should be a regular thing to prevent the creation of thick layers of dust.
Wiping shutters
When you're sure you've collected as much of the dust as possible, give your shutters a deeper clean with a damp cloth. Never use any harsh cleaning chemicals and always test any cleaning liquids you intend to use first by applying to an inconspicuous area of the shutter.
You should work along your shutters slat by slat, remembering to clean both sides of each panel when you open them out. Remember to dry off your shutters straight away to avoid any marks and don't get hardwood shutters wet as you risk damaging the material – only ever use a very lightly dampened cloth for hardwood.
Stubborn marks
Whether it's an accidental bump that has caused a mark on your shutters or because the kids have been let loose with the pens and crayons, the first thing to do is check that it won't come off with a simple wipe via the damp cloth method.
For any waterproof coated shutters, you can probably get away with using a wetter cloth as long as you dry the area afterwards, but no matter what you do, don't rub too hard, otherwise you could ruin the finish on your shutters.
Touch up with paint
When stubborn marks just won't come off, or when you've chipped the coating on your shutters, it might be worth considering touching the area up with paint. However, this should only be for a small nick or blemish and preferably in areas you won't see as often.
The other tricky aspect of this is that you'll have to work hard to find a colour to match. That's why, to avoid having patchy and worn looking shutters, we'd advise moving on to the next step.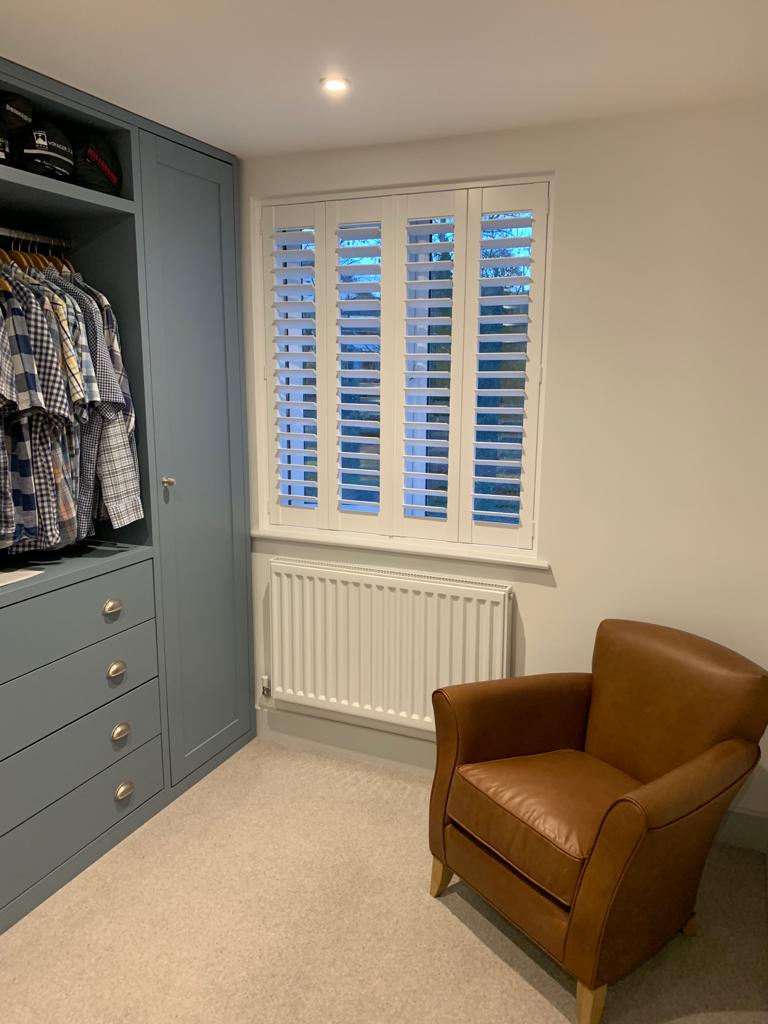 Replacement shutters
Don't put up with damaged or worn out looking shutters in your home. Create the dream decor with a variety of shutters from Woodstock Shutter Company. 
We have hard-wearing options such as the Antigua range or natural hardwood options in our Fiji shutters – there's something to every home whether you have a period terrace or a detached new build. What's more, we offer a 5-year guarantee on all our shutter materials for your peace of mind.
Book your design appointment to discuss new or replacement shutters for your home in Surrey – including Cobham, Epsom and Reigate – and we'll be happy to assist you. 
« Return to news