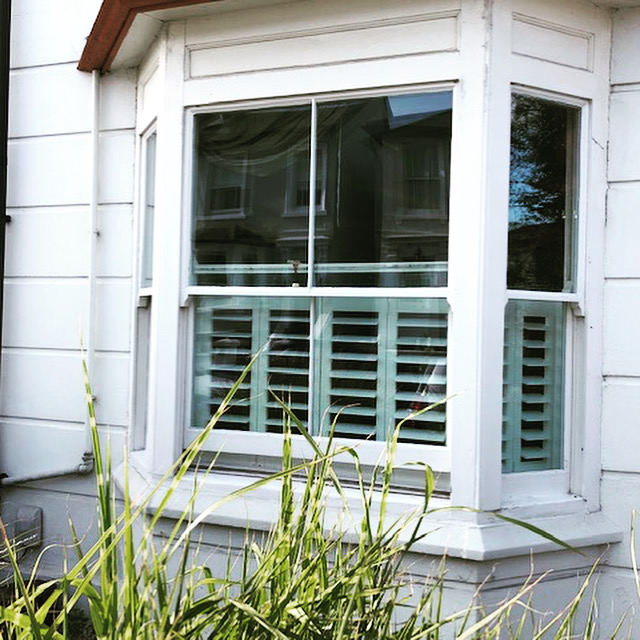 Shutters for your home commonly come in two different forms: exterior or interior. The positioning of them should be clear from the names, but the varying purposes, popularity and appropriateness of them may not be as clear.
This month, to help give you a better picture of both types of shutters and which is better suited for your home, we've created a piece to guide you.
Interior window shutters explained
Let's start with interior window shutters. Fitted to the inside of your windows, these are a flexible and elegant addition to a home, often preferred over blinds but sometimes paired with curtains.
With their adjustable louvres, they give you greater control over lighting and privacy in any room of the home. For this reason, and the unique aesthetic they bring, they have grown in popularity in the UK.
There are other practical benefits for interior shutters too, including their ability to impact thermal efficiency in your home. Keeping the warmth in when you need it, as well as keeping the heat out when you want things cooled down, they're the low-maintenance way to style your windows.
Exterior window shutters explained
Depending on where you are in the world, exterior shutters may have risen to popularity for different reasons. Here in the UK, it was for keeping out cold air and providing added security, making them a popular solution back in the 18th and 19th centuries. Elsewhere, they were used as robust protection for windows in extreme weather conditions, such as hurricanes and earthquakes.
Few homes in the UK now have exterior window shutters due to better glazing and improved design features internally (internal shutters being a good example of this). They remain popular in warmer Mediterranean climates, where fitting external shutters to a home adds to the rustic charm, but here in the UK, they tend to make a property look dated – one of the main reasons people have opted for interior shutters instead as part of a growing trend. 
Now we're clearer on the differences, let's talk about which shutter type would be a better investment and why.
Are interior or exterior shutters better for my home?
We've touched on how exterior shutters can date a property, but more importantly, interior shutters have risen in popularity to become more on-trend in almost every respect. So when it comes to which is better for your home, you need to consider what it is you want from your shutters – style or security?
Cottages are potentially some of the few homes exterior shutters now suit, keeping the rural charm going. However, they require a lot more maintenance due to their constant exposure to rain and cold, making them potentially more expensive in the long run.
If you want a modern design feature for a room with a classical twist – as well as the practical benefits we've already mentioned – then interior shutters are the way forward. They require far less maintenance and you don't need to wrestle with whether the exterior of your property suits such an addition. Plus, you can choose from a wide range of colours and materials to match whatever you have planned for that particular room – a level of flexibility you don't have with the outside of your home.
Here at Woodstock Shutter Company, we know how important it is to tailor every element of your home to suit your requirements and your dream decor. That's why we provide interior window shutters in a range of materials and finishes. Whether you need an impressive solution for your bay window or you want the European look of cafe-style shutters, we have something to suit.
We also offer free home design appointments with a member of our expert team who will provide as much advice as you need to find the right interior shutter style. We serve homeowners in and around Surrey – including Cobham, Epsom. Guildford and Reigate – and can provide immaculate installation of your chosen shutters in whichever room they're required.
Transform and update your home today – call our friendly team to book your appointment.
« Return to news